Mori Chan & Tora Plush Toy Set Collection
31 May 2017
Morinaga turns 100 this year! To celebrate and commemorate this very historical milestone, we are bringing in 4 sets of cute plush toys for your collection:
1st set: Drummer Mori Chan and Tora
2nd set: Policeman Mori Chan and Tora
3rd set: Sailor Mori Chan and Tora
4th set: Japanese Mori Chan and Tora (limited edition)

We will be introducing these 4 sets at different time of the year. The 1st set is already out in the market now. With every purchase of 4 boxes of 700g Morinaga Chil-kid, you are entitled to a Mori Chan or Tora. So hurry, visit your nearest Chinese Medical Hall or pharmacy now and ask for 100th years plush toys package. While stock lasts. Thank you for your support.

Morinaga 今年100岁了! 为了要庆祝及纪念这非常有历史性的里程碑,我们带来了4套非常可爱的毛绒玩偶让您收集:
第1套:鼓手Mori Chan 和Tora
第2套:警察Mori Chan 和Tora
第3套:水手Mori Chan 和Tora
第4套:日本人Mori Chan 和Tora (限量版)

我们会在今年不同的时段推出这四套。第一套也已经抵达市场上了。每购买4盒700g Morinaga Chil-kid, 您将可获得一个Mori Chan 或者 Tora。不要再等了,赶快到您附近的药材店或西药行询问有关这100周年庆毛绒玩偶配套。存货送完为此。谢谢大家的支持。
BABY & KIDZ Fair, Spice Arena Penang, 26-28 May 2017
28 May 2017
It's very bright and happy in Penang at SPICE Arena as the Baby & Kidz Fair is kicking start on 26 May 2017, and the event was ended on 28 May 2017. Mori Chan was at the exhibition and booth P053!

周末时刻,槟城SPICE Arena显得特别灿烂和兴奋,因为Baby & Kidz 宝宝用品展览会于 5月26号开跑,维持三天至5月28 号。
Mori Chan 数度出现在会场与 摊位 P053 哦!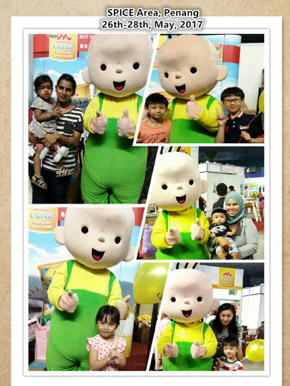 Today's Baby Expo, Mid Valley Exhibition Centre, 19-21 May 2017
21 May 2017
ATTENTION dear friends:
TODAY is THE DAY!!! We are waiting for you and hoping to see you this weekend at Mid Valley Exhibition Centre (New Booth No: A57), from 10am - 9pm. Great deals and premiums awaiting you. Come and take photos with our mascot - Mori Chan too!!!

各位敬爱的朋友请注意:
期待已久的日子已经到了! 今天起到星期日,我们会在Mid Valley Exhibition Centre (新摊位号吗: A57), 早上10点 - 晚上9点等待您的光临。优惠和礼品在等待您的领取。我们的吉祥物 – MORI CHAN 也会到场跟大家拍照留念。我们不见不散咯!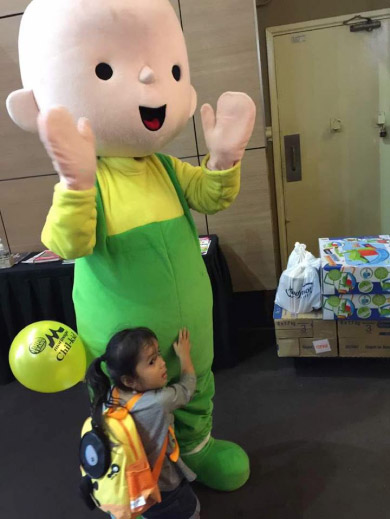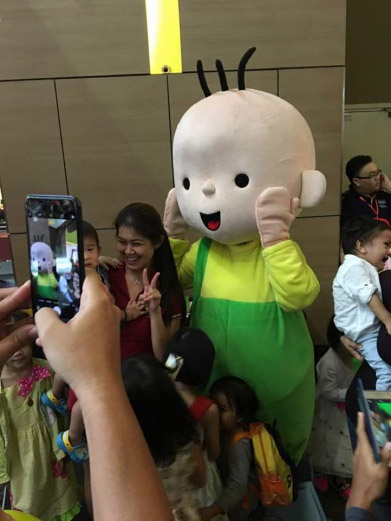 Today's Baby Expo, Danga City Mall, 5-7 May 2017
07 May 2017
Dear daddies and mommies residing in Johor Bahru,
Morinaga Chil-kid was at Today's Baby Expo during weekend of 5-7 May 2017 at Danga City Mall, JB.
Besides attractive promotions and wonderful premiums, our mascot Mori- Chan had went to meet you and your children personally.

住在新山的爹地妈咪们,
Morinaga来新山咯!
Morinaga Chil-kid 参与了在Danga City Mall 为期三天的妈咪宝宝展览会。
这一次我们准备了一些惊喜给大家。除了带给大家劲爆的优惠,精美的礼品,我们的吉祥物 Mori-Chan 也到达会场与大家见面拍照。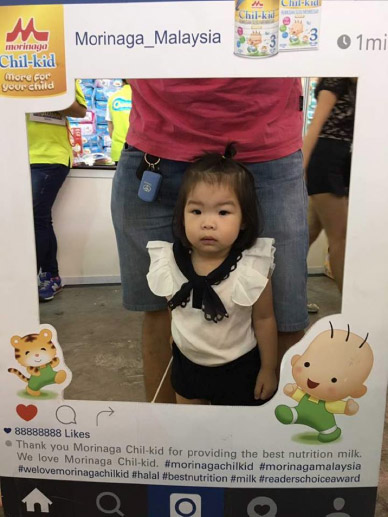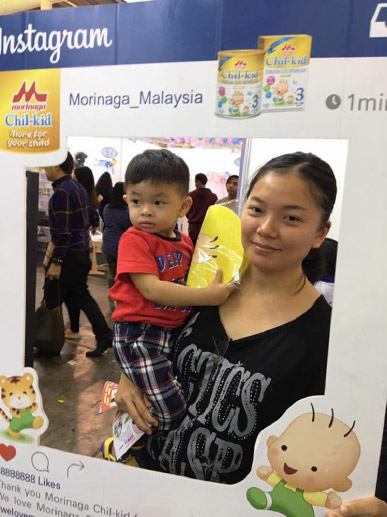 Parenting Expo, Imago Mall Kota Kinabalu, 29 April – 01 May 2017
01 May 2017

Calling all parents in Kota Kinabalu...
MORINAGA MILK WAS IN TOWN!!!
During the event, we had brought customers lots of goodies and great deals with special premiums.
See you all again next time!

住在亚庇的爹地妈咪们请注意! 住在亚庇的爹地妈咪们请注意!
MORINAGA 已经来到亚庇了!!!
在这三天里我们带了好多好康给大家。。。 劲爆的优惠,精美独特的礼品。谢谢大家的支持,我们下次再见!
Alpro Health And Beauty Warehouse Sales, Zenith Exhibition Hotel, 28 – 30 April 2017
30 April 2017
We were in Kuantan for this superb warehouse sales organized by Alpro Pharmacy! The response was overwelming and thank you all for visited us!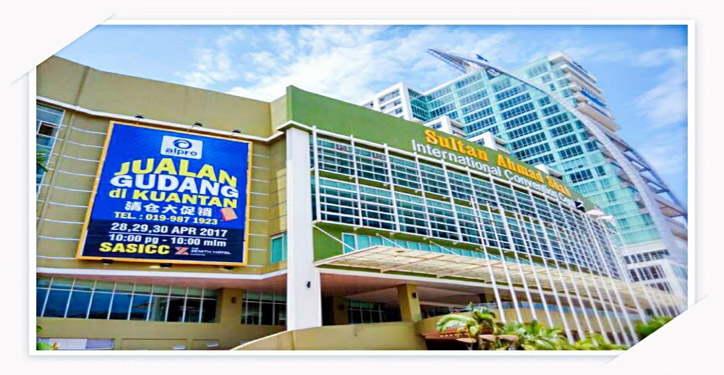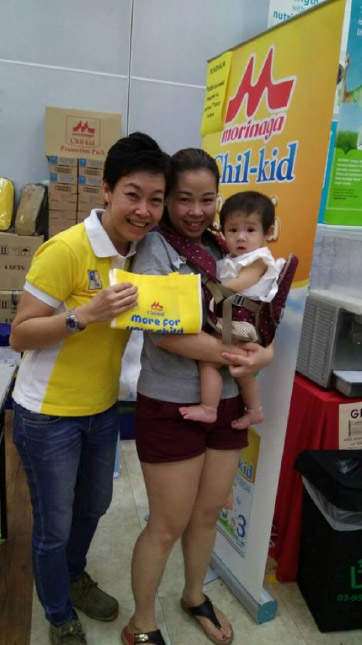 Festive Pack Promotion
15 December 2016
Hey Daddies Mommies, are you looking for a Christmas and New Year gift for your loved one? Morinaga Chil-kid Festive Pack is one of your choice! The pre-packed of 4boxes 700g Morinaga Chil-kid come together with an Air-tight Container. It has a tinted color see-thru lid, easy grip lift-off lid with silicone seal, top rack dishwasher safe, high quality with BPA free acrylic resin, and stackable for space saving organization. The container is ideal for dry food storage ie Nuts, Biscuits, Cookies, Tea, Snacks, Coffee powder, Oats, Milk Powder and many more... The Festive Pack is now available at Chinese Medical Halls and some appointed Pharmacy outlets only. We wish you and your family a Happy Holiday!

嘿~爹地妈咪,您在寻找着圣诞和新年礼物给您的亲人吗?Morinaga Chil-kid佳节配套是您的选择之一哦!预装的配套里有4盒 700克 Morinaga Chil-kid与一个密封罐。它有一个彩色的透明封盖,容易抓握和硅胶密封盖,洗碗机安全使用,高品质和BPA免丙烯酸树脂,多个类似密封罐堆叠起来可以更节省空间。密封罐适合存储干粮等食品,如坚果,花生,饼干,茶叶,零食,咖啡粉, 燕麦,奶粉等等。佳节配套在多数药材店和部分指定药房可得。祝您与家人,佳节愉快!
Mom & Baby Expo at Penang Spice Arena
28 November 2016
Dear Mommies and Daddies, we are finally coming to Penang!

Thanks for the long waiting since May. This time we bring to you more attractive promotion.

Stay cool, and we shall meet you at SPICE Arena @Morinaga booth 21.