About Morinaga Milk Industry Co., Ltd
Morinaga Milk Industry Co., Ltd. is the second largest dairy product company in Japan, and employs a workforce of more than 5,600 (consolidated basis). The annual sales amount is about US$ 6.0 billion. Founded in September 1, 1917 as Nippon Rennyu, Ltd., the company started by producing condensed milk, then moved on to produce the first powdered milk of Morinaga in 1920.
Since milk has long been known as an important source of the nutrients needed to sustain life, Morinaga has been constantly researching milk to identify the elements and biologically active agents that can be isolated and combined with other ingredients to create nutritious products. Throughout the years, Morinaga's mission has been to continuously provide essential nutrition for not only children, but also for adults.
Morinaga exhibits excellence in the field of technology and not only sells dairy products, but also the beneficial functional ingredients isolated from milk components. Morinaga has been exporting its products and technology to some 30 countries around the world for more than 30 years. In 1949, Morinaga Milk Industry Co., Ltd. was established.
For more information:
http://morinagamilk.co.jp/english/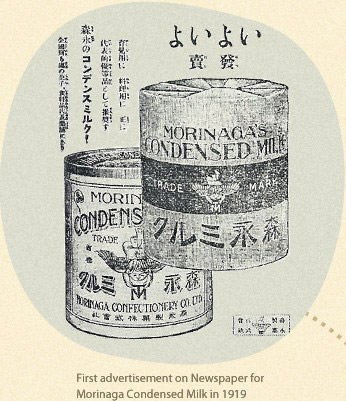 Morinaga's first product - Condensed Milk
Morinaga Milk produces Bifidobacterium longum BB536, one of the most widely recognized probiotics in the world, as well as other well-known probiotics. Morinaga's extensive research and development has resulted in the superb discoveries of Bifidobacterium longum BB536, now one of the most widely recognized probiotics in the world, and the great benefits of Lactoferrin, which is widely used in infant formula to improve immunity.
Today, Morinaga produces a great number of products such as milk, dairy-based beverages, yogurt, desserts, condensed milk, children powdered formula, cheese, butter, ice-cream, clinical liquid diets, and non-diary beverages such as juice, tea and coffee. The company also provides functional ingredients such as probiotics, lactoferrin, milk peptides, lactulose, supplements, creaming powder as well as other products. The company is also involved in the design and construction of plant equipment.